Situated between Western and Eastern European cultural areas and characterized by an eventful history: There is a lot to see and experience in Poland.
Poland's economy has undergone impressive development since the 1990s, and especially since the country joined the EU in 2004.
Poland exports a lot of goods. Its biggest trading partner by far is Germany, followed by the UK, the Czech Republic, and France. Poland's exports include machinery, auto parts, and chemical products.
Important Polish economic sectors with a long tradition are the food industry, the energy sector, and the mining and metallurgical industries, followed by the mechanical engineering, electrical engineering/electronics, car manufacturing, and textile and clothing industries. In the electrical sector specifically, Poland is the largest location in Europe for the assembly of household electrical appliances.
DB Schenker in Poland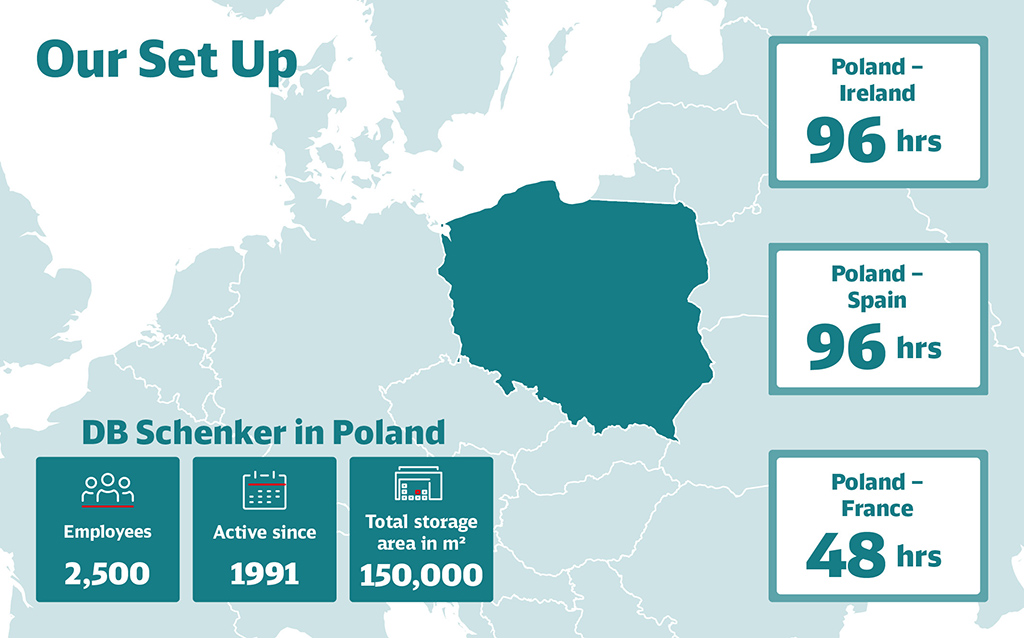 Discover the most beautiful parts of Poland
From the Baltic Sea in the north to the mountains in the south – Poland offers a suitable destination for every taste.
1 Gdansk: The golden harbor city
A cozy old town, many sights, and the sea right outside the door – Gdansk is also known as the golden city on the Baltic coast of Poland. With its numerous shipyards and the country's largest seaport, the former Hanseatic city is an important trading location. The Port of Gdansk is the fourth largest on the Baltic Sea. In 2018, a record was set with a total of 49.03 million tons of goods handled.
2 Tatra National Park
Tatra National Park in southern of Poland is a UNESCO biosphere reserve under strict protection. Hikers and mountaineers from all over the world come together in the rugged mountain landscape to enjoy the breathtaking views. Between secluded beech forests and crystal-clear mountain lakes, wolves and brown bears live in harmony with the Gorals, a mountain people who have carefully preserved their culture and traditions.
3 Warsaw: The sprawling capital
The city's diverse architecture – from Gothic churches and neoclassical palaces to Soviet-era housing blocks and modern skyscrapers – reflects its long, turbulent history, that is why Warsaw is also called the "Paris of the North." Warsaw is home to an extensive cafe culture, a vibrant atmosphere, and plenty of space to relax on the banks of the Vistula River.
Special tips for your summer trip by Ryszard Deneka, DB Schenker in Poland
Ryszard Deneka works at DB Schenker in Poland as a software tester. He is a passionate cyclist who has participated in ultra-distance races in Australia and the U.S. – but he also enjoys leisurely tours. Ryszard has some interesting things to tell us about a tour of Poland, and he encourages people to discover the country's charms.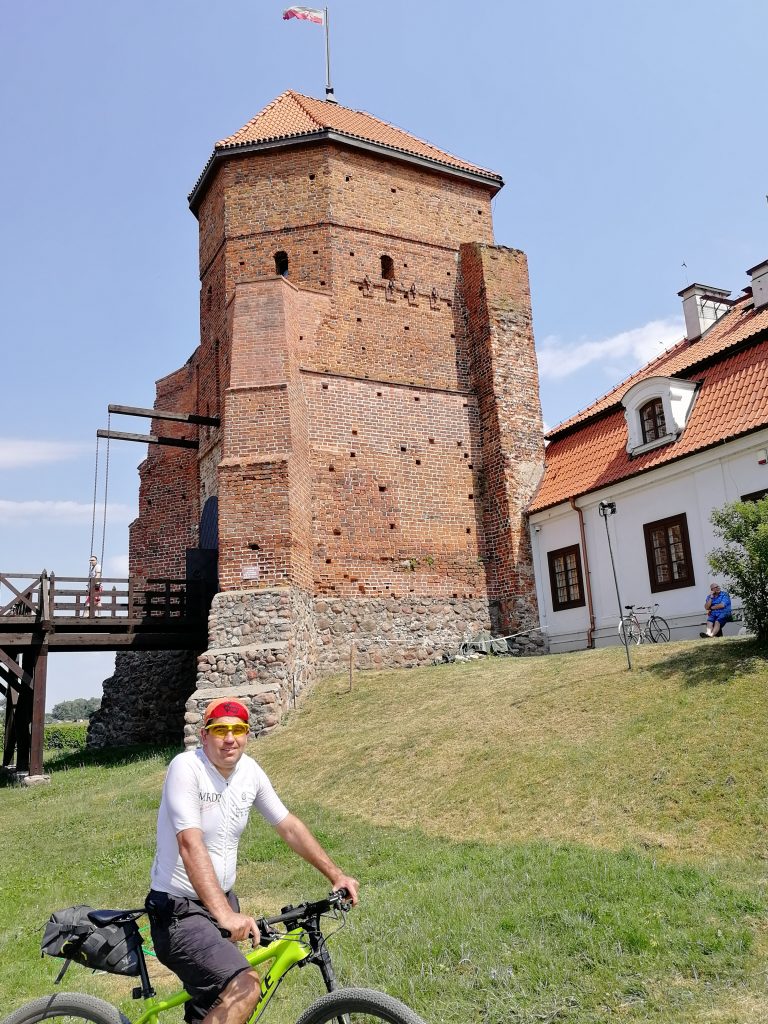 "Poland is 649 km long and 689 km wide, and it's nice to just get on your bike and start exploring the country. There are countless places to discover, and a whole range of bicycle paths are available.
I particularly recall my cycling trip across Masuria, the land of a thousand lakes. Masuria is a scenic region in northeastern Poland. Its special attraction is its beauty – it's full of forests, lakes, well-prepared cycling paths, great cuisine, and interesting people. Far away from roads full of cars, a gravel path led me to the Great Masurian Lakes region. One of the most interesting routes is the Green Velo Eastern Cycling Route – almost 2,000 kilometers of cycling.
The capital of Warmia and Masuria is Olsztyn, a beautiful city worth visiting. Six years ago, DB Schenker built an environmentally friendly terminal a dozen or so kilometers south of Olsztyn. A population of frogs found during construction were moved to a new safe location under the supervision of an environmental agency.
Peace and quiet, green landscapes, rivers and backwaters – the Podlasie region in eastern Poland, and its wildlife, are amazing. What's more, the region boasts nearly 600 kilometers of picturesque cycling routes. I recommend visiting Tykocin and Supraśl, two towns in Podlasie classified by Travelist as among the ten most beautiful places in Poland. Not too far from Tykocin is Pentowo, which has more than 30 stork nests and hundreds of storks living there. This is why Pentowo is called the European village of storks. DB Schenker's first BREEAM-certified green terminal is located near Bialystok, which is not far from Pentowo. Bicycle paths lead through the Knyszyńska Forest, where you need to cross the Napoleon Route, thus named because according to some reports, French troops advanced through here to reach Moscow in 1812.
While cycling in Poland I often camp or take advantage of the hospitality offered by agritourist farms. If you really want to immerse yourself in nature, cycling across Poland is a great idea."
---