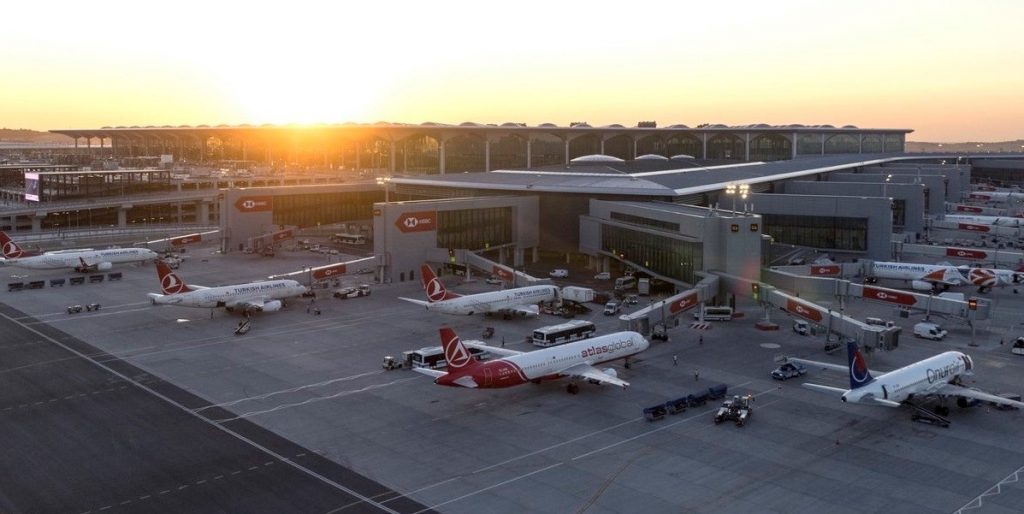 Partly European, partly Asian – Turkey is situated on both continents. It's not surprising that the country sees itself as an ideal bridge for traffic and transports between Asia, Europe, and Africa. The new Istanbul Airport recently opened in the Turkish capital therefore fulfills an important role. It is planned to turn the region into a central hub for passengers and airfreight between the three continents of Africa, Asia, and Europe.
Reason enough to take a look at the latest worldwide megaprojects in a loose series: What about these ambitious development plans seen in light of the current slump in passenger and airfreight numbers?
Addition to existing airports
Istanbul Airport is to complement the two airports already existing in Istanbul: Sabiha Gökçen Airport (IATA code: SAW) is Turkey's second-biggest commercial airport. Atatürk Airport, on the other hand, used to be Turkey's biggest international airport.
It carries a special significance because its history reaches back to the early days of Turkish aviation: In 1911, the first hangars were built in Yeşilköy near Istanbul. Barely 100 years later, the airport was bursting at the seams. That's how the idea arose of a newer, bigger airport that was built to last for years to come.
It was understood from the outset that it should also serve as an airfreight hub: More than 50 countries can be reached by plane within three hours. The carrier Turkish Airlines also is headquartered at the airport. With its 336-plane fleet it delivers freight to 300 destinations and offers 86 direct cargo destinations.
Logistical masterpiece
The move from the old Atatürk Airport to the new one on April 5 and 6, 2019 was a logistical tour de force carried out in a mere two days. More than 1,800 airport employees moved 47,300 tons of equipment and installations to IST – from the 44-ton aircraft tug down to small replacement parts for one of 5,000 swap bodies.
Massive increase in capacities
With the opening of IST, passenger and airfreight capacities in the region have risen enormously: In 2019, 68 million passengers had passed through the old airport which was designed for a third of that number. By comparison, Istanbul Airport is scheduled to handle 90 million travelers per year even during the first opening stage.
But the corona pandemic grounded air traffic in Turkey and worldwide; the number of passenger flights went down by nearly half during the first weeks of the outbreak. Freight operations also decreased:
"For the full year of 2020, Istanbul's airports will reach one-third of the previous year's volume," Kadri Samsunlu, CEO of airport operator IGA, recently confirmed in an interview.
Expansion continues
IGA has nevertheless continuously driven forward the expansion of IST. In June 2020, its third runway was opened. Now, 120 planes can take off and land every hour instead of 80 as before. Currently the fourth runway is under construction which is scheduled to go operational in 2022.
Further extension stages are already planned: A fifth runway and Terminal 2 could go into operation in 2025. Two years after that, the hub's expansion is due to be completed with a sixth runway. With an annual capacity of 5.5 million tons of airfreight and 200 million passengers it would be among the world's biggest airports. Truly a bridge between continents.
Source: DB Schenker Germany /Read this article in German