Click here to find out more about DB Schenker's sustainability goals.
How can we achieve carbon neutral operations? Many companies have carbon neutrality in mind when they are establishing goals for the upcoming years. For example, Apple aims to be carbon neutral by 2030. Google claims to be carbon neutral since 2007.
Logistic providers are also increasingly testing carbon neutral supply chains. E-trucks are already in operation, cargo bikes are used for city logistics and carbon neutral flights for cargo transportation have been introduced. But it's not only about environmental protection. The industry also thinks of carbon neutrality when it comes to facility management and the efficient management of resources and energy.
What does carbon neutrality mean?
The planet's average surface temperature has risen by approximately 1.2°C since the late 19th century. One reason: increasing carbon dioxide emissions. To avoid a climate crisis, now is the time to act.
"Climate neutrality is no longer a question of choice, it is beyond doubt a necessity."Charles Michel
European Council President, July 2020
Carbon neutrality describes a state in which the activities of an individual or an organization result in net-zero climate impact from greenhouse gas emissions. That means that either the activities must release no greenhouse gases or the emitted greenhouse gases must be balanced out by carbon offsetting measures.
The importance of carbon neutrality in logistics
For companies, there are many advantages associated with environmental protection and achieving carbon neutral operations. Firstly, sustainable business operations leads to long-term success. Since environmental protection is extremely attractive to customers, employees, stakeholders and general society, the company can increase its reputation on a large scale. Furthermore, sustainable measures can also reduce costs by using less resources and saving energy.
However, it is also important to mention that the possibilities of the service industry to become carbon neutral are also limited to a certain degree. Logistics service providers rely on many different stakeholders, such as carriers, industry partners or politics, who also have to engage in this topic within their certain fields. Only with a holistic approach and everyone's cooperation can carbon neutrality be achieved.
How does the industry plan to achieve carbon neutrality?
The transport industry contributes to 7 percent of global greenhouse gas emissions. For this reason, logistic providers are testing carbon neutral alternatives to transport customer's goods. However, carbon emissions from transportation are not the only problem; warehouses can also reduce carbon-intense energy consumption and waste can be recycled more effectively.
The logistic industry is therefore looking for carbon neutral alternatives, such as carbon neutral buildings and warehouses, solar power and water saving opportunities and the use of e-vehicles and sustainable non-fossil alternatives.
For example, Daimler operates solar panels at many of their locations, and DB Schenker opened its first entirely solar-powered warehouse in Dubai in 2019. Other locations, such as Red Lion in Singapore, also use solar panels to reduce carbon emissions by 458 tons annually. Or rainwater is collected in harvesting tanks in Auckland, New Zealand, to be used in sanitary facilities throughout the building.
Furthermore, the use of e-vehicles is becoming increasingly important. DB Schenker, for example, has extends its e-vehicle fleet in land transportation and is using cargo bikes for last-mile city logistics. To reduce carbon emissions in other business units, the company started using sustainable aviation fuel for carbon neutral flights between Frankfurt and Shanghai.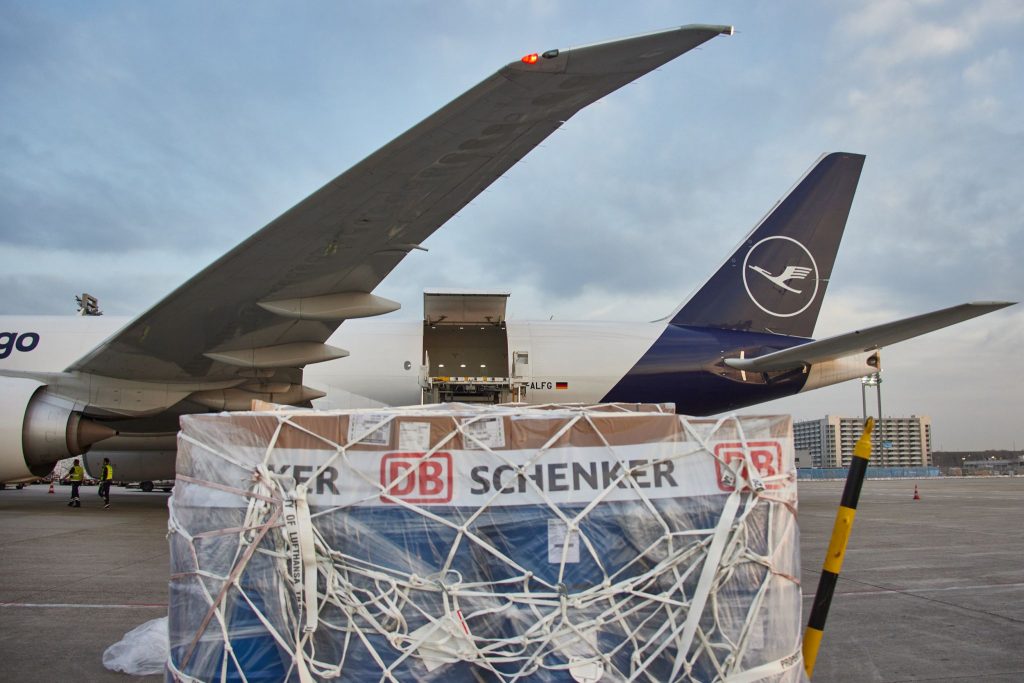 What does the future look like?
The topic of carbon neutral logistics will determine upcoming decisions within the industry. Which sustainable fuel can be used for transportation? How can the infrastructure for e-vehicles be extended? How can buildings and warehouses be structured to become carbon neutral? How can we increase awareness of employees to act sustainably? If the industry finds suitable solutions to these answers, customers will not only be supported on their journey to protect our environment, but the industry will act as a role model to encourage society as a whole to save our planet.
Dieser Blogpost stammt von "Logistics Matters" – DB Schenkers globaler Blog. Mehr Beiträge finden Sie hier.